Unterstützen Sie Kinoweb. Klicken Sie unseren Sponsor.
---
Alf - Der Film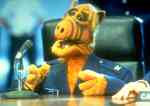 JPEG: Alf
---
William O'Leary
als Lt. Rick Mullican
William O'Leary, geboren in Chicago, entschied sich bereits als 18jähriger für eine Karriere als Mime. Die Schauspielschule besuchte er seinerzeit gemeinsam mit Gary Sinise. Seine erste Bühnenrolle hatte er als Ed Harris' Sohnin dem Broadwaystück Precious Sons. Zu seinen anderen Theater-Credits zählen The Dispute und Liars, die Off-Broadway aufgeführt wurden und The Comedy of Errors und A Midsummer Night's Dream beim Illinois Shakespeare Festival.
Amerikanische TV-Zuschauer kennen ihn vor allem als Tim Allens Co-Star in der erfolgreichen SitCom Home Improvement.
Filmographie:
1987 "Nice Girls Don't Explode"
1988 "Walker"
1988 "Annies Männer"
1991 "Black Angel"
1991 "Hot Shots"

---
Jensen Daggett
als Capt. Melissa Hill
Jensen Daggett hat sich vorwiegend mit Theater- und TV-Produktionen einen Namen gemacht.
Auf der Bühne sah man u.a. in Macbeth, Bad Seed, By The Skin Of Our Teeth und Rainmaker.
Zu ihren bekanntesten Fernsehfilmen und -serien zählen Home Improvement, wo sie mit William O'Leary zusammenarbeitete, The Adventures Of Brisco County Jr., Melrose Place, Bodies of Evidence, China Beach, High, Medicine Ball, A Perfect Life und Strange Luck.
Filmographie:
1989 "The Opposite Sex"
1992 "Die fabelhaften Baker Boys"